Biografi: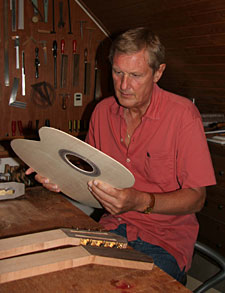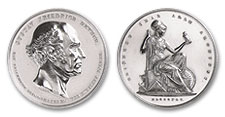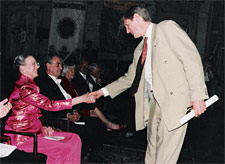 Kenneth Brögger is awarded "Applied Arts Prize of 1879" and, at the ceremony, is recognised by Her Majesty Queen Margrethe II of Denmark.

Biography:
Kenneth Brögger was born in Hellerup, north of Copenhagen, in 1948. He apprenticed with Danish guitar maker Yngve Barslev from 1972 to 1975. To supplement his training during this period, he made several research trips to Spain, the mother country of the guitar, and learned the secrets of the trade directly from the living tradition of guitar making. He built his first guitar in 1974.

In 1975 he set up his own workshop at Skovgardsvej 8 in Birkeroed and, in the same year, exhibited two classical guitars at Charlottenborg Palace in Copenhagen.

In 1976 and 1977, Brögger worked as a volunteer at The Museum of Music History and Carl Claudius' Collection in Copenhagen, measuring and cataloguing parts of the museum's collection of antique guitars. In 1977, he apprenticed at the instrument workshop of Phil Parker Ltd. in London, England and, later that year, he moved his own workshop to Ravnsnaesvej 12, in Birkeroed.

In 1984 he received the first of five scholarships to date from the Danish Arts Agency.

In 1986, he organized the exhibition "A Guitar is Made" at the Museum of Music History. Here, he presented a selection of the instruments he has built over the years as well as a display created especially for the occasion portraying "a guitar in progress".

In 1990, he published his first book, "Classical Guitar Making", and, over the years, he has written features and articles about the guitar for newspapers, trade journals and magazines. He has been a technical advisor with the National Consumer Agency since 1975 and has participated as a guitar expert in radio and television broadcasts.

In 1997, Kenneth Brögger became a member of the Danish Crafts Council and, in the same year, he was awarded the "Applied Arts Prize of 1879" and a silver Hetsch Medal, the highest recognition in the field of artisan craftsmanship. Also in 1997, he exhibited a lute at the Museum of Industrial Design in Copenhagen and a selection of his own guitars at Rudolf Rasmussen's Joinery, Copenhagen.

In 1998, Kenneth Brögger spent a couple of months in Spain studying French polishing techniques with guitar makers Manuel Reyes, Cordoba, and Antonio Marin Montero, Granada.

In 2001, his second book, "Danish Guitars - and their Makers", was published and, in 2002, Kenneth Brögger carried out an extensive restoration of part of the Museum of Music History's collection of Danish-made string instruments in preparation for a permanent exhibition. He has since restored instruments for the museum on a regular basis.

Kenneth Brögger has been represented in the USA by Guitar Salon International since 2003.

In his workshop, Kenneth Brögger builds high quality classical guitars. They are sold in Denmark, the USA and Japan. He restores, repairs and values instruments and also buys and sells all types of stringed instruments.